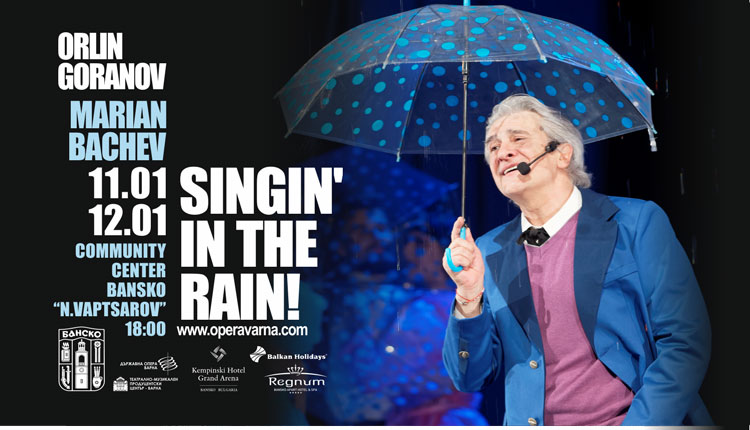 Varna State Opera presents the musical "Singin' in the Rain" in Bansko
The guests of Bansko can combine the emotions of winter sports with romantic nostalgia for silent cinema on January 11th and 12th, 2019. On both days at 6 pm they can see on the stage of "Nikola Vaptsarov" Community Center the musical "Singin' in the Rain". This is first Bulgarian remake of the famous Metro Goldwyn Mayer movie, written by Betty Comden and Adolph Green and with the music of Nacio Herb Brown and Arthur Freed's songs. The performance of the Varna State Opera is directed by Boris Pankin and conducted by Stratsimir Pavlov. This is a romantic and nostalgic show inspired by the silent cinema era. The famous Bulgarian pop singer Orlin Goranow (pictured right) plays film star Don Lockwood. His lifelong pal Cosmo Brown is performed by Marian Batchev.



Very artistic are also the contenders for Don Lockwood's heart - Srebrina Sokolova (pictured left) and Liliya Ilieva as Lina Lamont and the talented dramatic actress Kathy Selden.
The entourage of directors, assistants, and other staff on stage is very impressive.

Producer R.F. Simpson is performed by comedian Plamen Georgiev from Varna. Opera, dramatic and ballet artists sing, dance, and play so natural from the beginning to the end of the show that it is difficult to say which artist from which art scene comes. Choreographers of the musical are Boryana Sechanova and Mariana Krancheva, stage designer is Ivan Tokadzhiev and the costumes are made by Anna-Maria Tokadjieva.